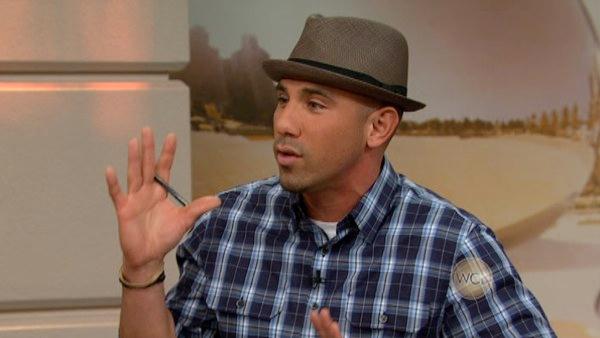 ''What's on Dec'' w/ Billy Dec March 29 - April 4: Best Events, Concerts, Parties, Games, Fests...
03/28/2012
Billy Dec, CEO of Rockit Ranch Productions, shares his picks of events for the upcoming week.
Thanks for checking out my "What's on Dec" segment every Thursday at 9am. Follow me on facebook.com/BillyDec and twitter.com/BillyDec and please give me feedback if you go to these events and/or have any events you'd like me to share in the future!
3rd Annual "Real People of Style" Fashion Show, Mar. 29 at 6pm, 900 North Michigan Shops Level 3, $25-$30
Details: "The Real People of Style" will feature nine of Chicago's most fashionable taste-makers.
Website: http://www.fanfueled.com/Event/Details/2147-cheekychicago-peroni-present-the-real-people-of-style-spring-fashion-show
Jazz Night Benefit with Lisa Hilton and Nikki George, Mar. 29 at 8pm, The Joynt, $45-$65
Details: Come to Jazz Night with Lisa Hilton and Nikki George. Proceeds will directly support The Chicago Lighthouse's 28 programs and services for people who are blind or visually impaired.
Website: http://chicagolighthouse.org/
Sippin', Strollin' & Sprawlin', Mar. 29 at 6:30pm, Lincoln Square, $40-$50
Details: Taste delicious seasonal wines paired with hors d'oeuvers with family and friends.
Website: www.lincolnsquare.org
Hearts and Hands for Harrisburg, Mar. 29-Apr. 8
Details: On February 29th a tornado hit the town of Harrisburg, Illinois. Help tornado victims by donating money and gift cards to help rebuild and feed those that were affected.
Website: http://chicago.everyblock.com/announcements/mar14-hearts-and-hands-harrisburg-4822365/
Brunch with the Easter Bunny, Mar. 29 at 10am, Merrimac Park, $10
Details: Enjoy brunch, games, and fun with the Easter Bunny!
Website: http://www.chicagoparkdistrict.com/parks/Merrimac-Park/
2013 Pinups for Pitbulls Calendar Model Search, Mar. 29, Pinups for Pitbulls, Inc., $50
Details: This organization is looking for fresh faces for their 2013 calendar. Funds from these calendars go to this non-profit that spreads the word about the good of this breed.
Website: http://pinupsforpitbulls.org/
Chicago Best of the Best 2012, Mar. 29 at 6pm, English, $25-$30
Details: Celebrate the Chicago honorees that make Chicago hip, young, smart, creative, and fun.
Website: http://www.englishchicago.com/
International Vintage Poster Fair Preview Party, Mar. 30 at 5pm, Chicago Cultural Center, $45
Details: This benefit for the Evening Associates of the Art Institute of Chicago lets you preview more than 10,000 posters from the 1890s-1980s.
Website: http://www.posterfair.com/cgi-local/content.cgi
ASPCA Mega Match-A-Thon, Mar. 30-Apr. 1, Tree House Human Society, FREE
Details: Help adopt 26 cats in 26 hours! Tree House is one of 56 shelters in the country to participate in the ASPCA's Mega Match-a-Thon Adoption Event.
Website: http://www.treehouseanimals.org/site/PageServer?pagename=home
Catwalk For Women's Health & Take a Stand Against Youth Violence, Mar. 30- Mar. 31, Congress Plaza Hotel Convention Center, $10-$15
Details: 2 spectacular fashion shows that are full of fabulous fashion, music, and socializing. A portion of the proceeds will go to the American Heritage Youth Foundation
Website: http://www.chicagocouturefashionweek.com/
The Gathering of Hope, Mar. 30 at 6pm, The Union League Club of Chicago, $250-$10,000
Details: Come together and show support for The Gathering of Hope with Chicago Hope Academy.
Website: https://npo1.networkforgood.org/Donate/Donate.aspx?npoSubscriptionId=7385
Wine Tasting by Vinejoy, Mar. 30 at 5:30pm, Dovetail Chicago, FREE
Details: Taste and savor delicious wines by Vinejoy.
Website: http://www.dovetailchicago.com/
The Hunger Games Trivia Night for Young Adults, Mar. 30 at 6pm, Downers Grove Public Library, FREE
Details: Show off what you know about The Hunger Games and all your favorite characters while enjoying food and drinks.
Website: http://www.downersgrovelibrary.org/
Chicago Beer Festival, Mar. 31 at 1pm, Union Station, $40
Details: The Chicago Beer Festival features dozens of craft breweries and over 100 beers.
Website: http://thechicagobeerfestival.com/
Dance Party Yoga Rave, Mar. 31 at 7:30pm, Plumbers Hall, $15-$25
Details: A dance party with high energy and yoga meditation all in one!
Website: http://mycity.sulekha.com/a-unique-dance-party-yoga-rave_event-in_chicago-il_274394
Spring Egg-Stravaganza, Mar. 31 at 9am, Soldier Field, FREE
Details: You and your family can go on the ultimate egg hunt at Soldier Field!
Website: http://soldierfield.net/content/soldier-field-spring-egg-stravaganza-presented-dominicks
Spring Cleaning Art Sale, Mar. 31 at 11am, Palette & Chisele Academy of Fine Art, FREE
Details: Hundreds of oils, watercolors, and sculptures will be on sale for $300 or less.
Website: http://www.paletteandchisel.org/org/PaletteChisel/cms.aspx
Chi Town Half-Marathon & 10K, Apr. 1 at 7am, Lincoln Park, $40-$80?
Details: Participate in the Chi Town Half-Marathon and 10K that goes through Lincoln Park on a USATF certified course.
Website: http://www.allcommunityevents.com/chi_town_half_marathon/chi_town_half_mar_home.html
Piyesta Pinoy & Party Pilipinas, Apr. 1 at 12pm, Navy Pier, FREE
Details: This party and fiesta put on by the Filipino community through "Neighborhoods of the World" will have food, colorful costumes, cultural displays and more.
Website: http://www.facebook.com/events/288605094535004/
Rosebud Schaumburg April Culinary Class, Apr. 2 at 7pm, Rosebud, $55
Details: Rosebud 2012 Culinary Class Series featuring Chef Michael Ponzio demonstrating classic Italian dishes.
Website: http://triblocal.com/schaumburg/community/stories/2012/03/rosebud-culinary-class/
Screenings of Mulberry Child, Apr. 2, Gene Siskel Film Center, FREE
Details: This documentary saga begins in Chicago with a disconnect between Chinese-born Jian Ping & her American daughter Lisa.
Website: http://www.siskelfilmcenter.org/mulberrychild
Couture in Rouge, Apr. 4th at 5pm, The Palm Court at The Drake Hotel, $5
Details: Chicago Red Dress Party presents a night of red fashion, HIV/AIDS awareness and fund raising event. Proceeds will benefit the organization that provides vital community services.
Website: http://www.chicagonow.com/chi-lebrity-fashion-beauty/2012/03/couture-in-rouge-at-the-drake-hotel/
Stay Informed:
Most Popular

Sign up Be Our Guest